– Squatters say the land is being flooded to force them to move
THE GuySuCo lands being occupied by squatters at Vryheid's Lust, Success and Chateau Margot on the East Coast of Demerara (ECD) are currently being prepared for use in the next few months, according to officials.
For the past few months, squatters have been occupying lands in these areas. On Monday, a group of them staged a protest in front of the People's Progressive Party/ Civic (PPP/C) Freedom House headquarters against what they deemed to be an attempt to force them off of the lands.
Later, however, the Guyana Chronicle learnt that these lands are now being released by the National Industrial and Commercial Investments Limited (NICIL), the parent or holding company of the sugar corporation as part of plans to restart sugar production on the ECD.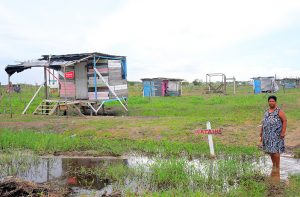 "It was always clear from the very first engagement weeks ago that those were GuySuCo lands and (they) are part of GuySuCo's pre-cultivation methodology…GuySuCo has to make their own preparation for cultivation," NICIL's Interim Chief Executive Officer (CEO) Radha Krishna Sharma told the Guyana Chronicle.
President Irfaan Ali, during a recent press conference, related that a sum of money would be used to start preparation for the reopening of the Skeldon, Rose Hall and Enmore estates. And in order for that Enmore estate to be operationalised, Head of the Agriculture Research Centre at GuySuCo, Gavin Ramnarain, explained that massive amounts of the cane crop will be required.
"When the Government announced that things were going to go ahead to restart things at Enmore, and you do the calculation, you would realise that you have to have these lands available because there is no other way to do it," Gavin explained further when contacted by this newspaper.
A typical cane crop takes one year to grow. Seed canes, like those currently planted at the Enmore estate, will subsequently be planted at a much larger area (such as at any of these ECD estate lands) by the 'first crop' next year, which is expected to be in February.
Before that time, however, the land must be prepared. Since these lands have been largely unused for some time, they may be colonised by pests and unwanted weeds. Gavin highlighted that the fastest, cheapest and most environmentally-friendly way of clearing those from the land is to flood the land. Flooding the land, he said, is only beneficial for the soil.
Recently, the Central and Housing and Planning Authority (CH&PA) began streamlining the land applications of squatters occupying those lands unlawfully in an attempt to provide some redress. The CEO of the CH&PA, Sherywn Greaves, reaffirmed on Monday that the authority was doing all that it can to assist these persons, but the authority is still distributing lands in a structured manner- giving lands to persons with the oldest applications first.
In the meantime, CH&PA has collected the names and contact information of the squatters. The Guyana Chronicle understands that the Housing Ministry is considering further assistance for those squatters who have applications with the CH&PA for some time.
"As soon as I come off my bed this morning and I put my foot down, is straight into the water my foot gone and I just want an answer as to why they flooding us now if they say they trying to help we," Nalini Blair, one of the Success squatters said.
Blair is a security officer and a mother of seven; this family of eight has been squatting at Success for the past four months. She applied for a house lot with the CH&PA seven years ago but to date, she has not gotten her desired plot of land.
However, Sharma reminded that the coalition of agencies- the Ministry of Housing, the CH&PA, NICIL and GuySuCo- engaged these squatters on numerous occasions, cautioning them against squatting at the location.
"It's not a case where NICIL or the Government is insensitive to the needs of the persons, it is just that it was the manner in which it was done. It simply cannot be done," Sharma stressed, adding later, "it's unfortunate that the squatters should interpret this (flooding) as something aimed at them."
He said that the squatters should not have any "false expectations" that they would be allowed to use these lands. Though cognisant of the plight of these squatters, Minister of Housing, Collin Croal previously told the Guyana Chronicle that these individuals have to follow the established process of applying for house lots, that is, through an application to the CH&PA.
It was also reported that thousands of cane varieties have been destroyed, resulting in a potential loss of billions of dollars in future cash flows for GuySuCo due to the occupation of lands. An unquantifiable amount of data and research was also lost, since the Success/ Chateau Margot squatting area was a research nursery for GuySuCo.