By Vishani Ragobeer
IF you're looking for a different yet worthwhile way to enjoy your Valentine's Day, then look no further than the virtual showing of the seventh Rupununi Music and Arts Festival that will be replete with past performances, enlightening interviews and just good 'vibes'.
Local Musician and one of the Directors for the Festival, Gavin Mendonca, told the Guyana Chronicle that the effects of the COVID-19 pandemic has constrained the usual hosting of the festival, down in Region Nine. There, at the Manari Ranch, there would be days of local and world music, camping and an immersive experience that captures all aspects of the local creative sector.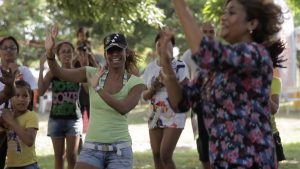 "The whole idea of the festival when it was initiated and why it was chosen to be on Valentine's Day was so that it could be a Valentine's spectacular," Mendonca said, adding: "Just imagine you're in the Rupununi, dancing under the stars with your partner or whether it is you and yourself, you and your instruments or you and the vastness of the Rupununi."
Despite this restriction on physical gatherings, this year, to mitigate the spread of the novel coronavirus, a virtual celebration has been crafted with a keen focus on paying homage to the 'Rock View years' where the festival was first held several years ago.
"We want to promote love and peace, not just romantic love but love in general with peace, positive vibes…. We want to offer a space where you could still feel love and share love, virtually, through music, art and dance," the local musician emphasised.
This virtual event, he explained, would also allow many of the 'coastlanders'- who have never been able to visit the festival down in the Rupununi, to get just a taste of the magic that unfolds in the savannahs.
Beyond this Valentine's Day virtual, Mendonca said that efforts are being made to garner support for a similar virtual event every two months, or so. This, he highlighted, would not only be to provide entertainment but to also create employment opportunities for local artistes.
As a creative person himself, Mendonca attested to the difficulties faced by all artistes, artists and performers in the creative sector due to the devastating ramifications of the COVID-19 pandemic. He lamented that creatives are suffering financially and mentally, but such an event would help to ease the burden they face.
For persons interested in enjoying a unique Valentine's Day experience, the festival will be streamed from 16:00 hours on the Facebook page and Youtube channel of the Rupununi Music and Arts Festival.